VivoKey Spark
VivoKey cryptobionics use industry standard contactless NFC secure element chips, giving you the power of strong cryptography with just a wave of your hand.
The Spark is a tiny cylindrical cryptobionic implant just 2.1mm by 14mm. It comes in a pre-sterlized injection assembly, making it easily installed by any medical professional or licensed body piercer.
Typically installed into the squishy webbing between thumb and index finger, the Spark will enable you to do amazing things with just a wave of your hand.
The Spark cryptographically links you with your VivoKey Identity in a way that is extremely secure yet easy to use. It is your key to a new world of enhanced digital identity and convenience.
Configure your Spark and secure your digital identity using the VivoKey smartphone app. No chip programming or fiddling around. Plug-and-play all the way.
Easily share your VivoKey Identity when anyone scans your Spark with their NFC enabled smartphone. Don't feel like sharing? You can go to private mode with a single tap in the VivoKey app.
As the VivoKey platform continues to grow, so will your new capabilities. Authenticating online accounts, logging into your computer, and securing physical doors and devices are all features coming soon.
We've created the world's first cryptobionic implants, and securely linked them to the cloud with an innovative API. Developer kits are available upon request. We also love enterprise partnerships and integration.
Frequently Asked Questions
Is the Spark safe? What tests have been performed?
---
The Spark is made with the same materials and manufacturing methods that other, similar FDA approved implant devices are. Unlike those devices, the Spark has strong cryptographic capabilities. VivoKey is currently in the process of aquiring FDA approval for the Spark. A battery of tests was performed on our design, including extreme pressure, extreme vaccum, extreme heat, extreme cold, blunt force impact, and of course all the standard sterility and biocompatibility USP Class VI and ISO10993 tests.
---
What is the expected useful life of the Spark?
---
The materials the Spark is made from will last many human lifetimes. The digital chip inside the Spark will reliabley operate and perform cryptographic functions for a minimum of 50 years.
---
How is the Spark installed? What about removal?
---
Installation The Spark is typically installed into the fascia tissue layer just under the skin. Most people choose to install the Spark into the hand, in the webbing between their thumb and index finger. This professional procedure guide explains the process...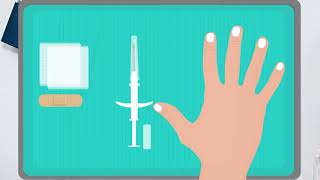 Discomfort
The amount of discomfort will depend on where the Spark is installed and if the professional performing the installation is able to administer any kind of pain mitigation treatment such as a topical numbing agent or possibly an anesthetic injection. Typically it is reported to be as mild as giving a blood draw sample at a doctors office or medical lab, however some report it being similar to a bee sting.
Removal
If you choose to have the Spark removed at a later time, the procedure is simple and can be done by any medical professional as an easy removal procedure in less than 5 minutes.
---
What are the Spark's tech specs?
---
Spark 2 FEATURES
Zero maintenance
Batteryless operation
Lifetime guarantee
ISO14443A & NFC Type 4
Strong AES128 encryption
SPECIFICATIONS
2.1mm diameter by 12mm long cylindrical shaped implant device
The shell is made of thick walled biocompatible Schott 8625 bioglass
Magnetically coupled, passive device containing no battery or power source
Operates at 13.56MHz frequency when powered by an RFID reader field
RFID "proximity" standard ISO14443A and NFC Type 4 compliant
Multiple AES128 symmetric key provisioning for multi-application use
Mutual authentication protocols supported for advanced protection
CMAC encrpypted signature NDEF data mapping for secure scanning
Spark 1 (discontinued)
FEATURES
Zero maintenance
Batteryless operation
Lifetime guarantee
ISO15693 & NFC Type 5
Strong AES128 encryption
SPECIFICATIONS
2.1mm diameter by 14mm long cylindrical shaped implant device
The shell is made of thick walled biocompatible Schott 8625 bioglass
Magnetically coupled, passive device containing no battery or power source
Operates at 13.56MHz frequency when powered by an RFID reader field
RFID "vicinity" standard ISO15693 and NFC Type 5 compliant
AES128 symmetric encryption with RNG and 2 byte ofuscation payload
Mutual authentication protocols supported for advanced protection
Custom 32-byte ECC-based originality signature
---
What smartphones and devices work with the Spark?
---
NFC enabled smartphones, except iPhone The Spark is NFC chip implant, which means it can be read by any smartphone that supports NFC. This includes Android, iPhone, Windows Phone, etc. It also means any qualifying phone can scan your Spark and launch the phone's browser to take action - either display your profile information as a virtual business card, direct you to a website, or take whatever action you specify. However, to manage your VivoKey profile and validate authorization requests from linked applications and services, special cryptographic commands must be sent to your Spark from your phone. Sending these commands requires access to the NFC hardware in your smartphone, and iOS does not allow this. Therefore, the VivoKey smartphone app is only available for Android. However, as stated above, you can still share your VivoKey identity details as a digial business card with iPhones by allowing them to scan your Spark with an iPhone 7S or later model iPhone. RFID devices The Spark is an RFID device, and certain compatible stand-alone RFID readers like access control systems, etc. can be used with the Spark. These devices will not be able to access the cryptographic system inside the Spark, but they can still use the standard transponder ID data to perform their function. USB Readers for desktop computers and laptops There are USB readers that can work with the Spark, however we do not have support software for these types of applications yet. Again, you are free to use any compatible USB reader with your Spark to access all the standard transponder features and ID data, however you will not be able to access the cryptographic system inside the Spark.
---
What are the Spark's capabilities and benefits?
---
The Spark has the following features and capabilities
Spark implants have no battery to charge or replace
This means you never have to worry about charging the battery or worrying the Spark will need to be replaced. Your Spark experience is totally frictionless once installed.
Each Spark has a 7 byte Unique ID (UID) serial number
The UID or serial number of each Spark chip can be registered with various compatible 3rd party access control devices like office badges, attendance systems, gyms, apartment buildings, electronic home door locks, etc.
NFC smartphones can read the Spark's NFC data
All NFC tags store data in what's called an NDEF record. The Spark contains an NDEF record that is readable by NFC enabled smartphones, allowing you to share information and engage with anyone who uses an NFC capable smartphone.
CMAC secured VivoKey profile URL stored in NDEF record
The Spark's NDEF record is digitally signed with a CMAC encrypted signature, allowing advanced features and integrity verifications to be built around authentic data sharing.
Multiple 128bit AES encryption keys provisioned for authenticity
Normal NFC chips just report their UID or serial number when being presented to readers or scanners, but this is not very secure at all. By leveraging multiple AES encryption keys, the Spark can prove authenticity to advanced identity and access control systems using industry standard cryptographic challenge / response mechanisms.
Exclusive VivoKey service platform and API support for the Spark
The VivoKey service platform expands your utility with the Spark beyond simple data sharing. The Spark is more than just an implant, it is your key to the expanding world of services and integrations that support advanced secure chip implants like the Spark.
---
What can you do with the Spark?
---
What can I do with my Spark today? The Spark is an innovative chip implant with advanced features well beyond the capabilities of normal NFC chips. Most of the Spark's possibilities rely on applications that are currently in development or don't exist yet. Still, there is a number of interesting things you can do with your Spark implant today.
Gain access to home, office, and vehicles with a wave of the hand
Like all NFC chips, the Spark has a unique serial number. This serial number can be registered with compatible access control systems to allow you to wave in and open doors at work, unlock electronic home door locks, and even start vehicles. Of course, these abilities rely on each system to be compatible with the Spark and in some cases (like most vehicles), may require the addition of some additional hardware and / or modification to enable the Spark to be compatible.
Share data with NFC smartphone users
You can share all kinds of information with people who have a smartphone with NFC support. By default when someone scans your Spark with their phone, your unique VivoKey "digital business card" is shared with them. Depending on what information you have provided in your VivoKey profile, they will be able to see your name, photo, contact details, links to social media or other websites, and whatever information you want to share about yourself. You can also configure your Spark to open any website or URL, just configure the "scan behavior" in the VivoKey app. When someone taps their phone to your Spark, they will see the website or URL you want to share with them. It could be your Facebook or social media profile, or your LinkedIn page, or if you're job hunting maybe it could be a unique way to share your CV or résumé.
Link your Spark to the VivoKey digital identiy service platform
Your Spark can be linked to your digital identity profile hosted by the VivoKey Identity service. This is a VivoKey serivce that allows you to scan your Spark with your smartphone to access websites and services that have implemented the VivoKey Identity API, rather than type a username or password. In fact, the VivoKey service platform does not use account names or passwords at all. Since first releasing the VivoKey platform API, several developers have integrated VivoKey support into their personal projects or websites and use their VivoKey to authenticate instead of a username or password. We have also released various plugins to make VivoKey integration with services like WordPress and Discourse easy. Check out our plugins page for more information.

What about future applications?

Not only are we constantly thinking of new ways to use your Spark, developers are also taking notice of our APIs and creating new solutions. We're also working with integrators to support VivoKey secure implants for use with 3rd party services for everything from government authentication to transit and even banking. The frontier is vast, and we are just beginning our journey.. but the road ahead looks very bright indeed.
---
---